Tents come in various shapes, sizes, and materials. It's the material of a tent that makes it waterproof. Choosing the wrong material can ruin your whole camping experience. Different companies use different waterproofing materials. Canvas, Polyester and, Nylon are some commonly used materials in waterproof tents.
A lot of people make the mistake of choosing the wrong tent. They know nothing about the waterproofing of a certain material. As a result, they suffer hard. If you don't want to be the next sufferer when its raining cats and dogs. Follow this guide.
In this guide, we will guide you through the pros and cons of different materials. After reading this guide, we are sure you will be aware of all the tent material types and what fabric you should choose for your next camping tent.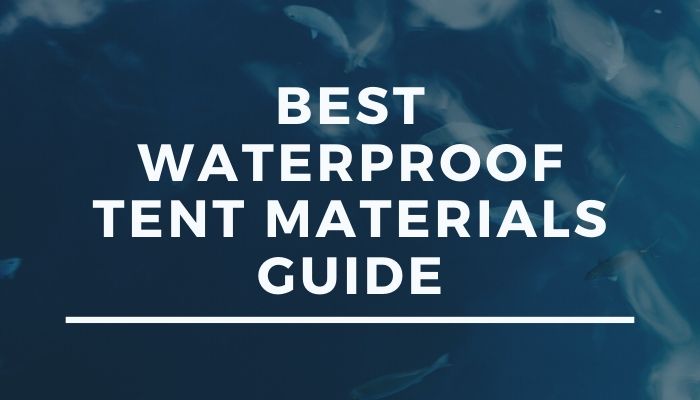 Best Waterproof Tent Materials List
Polyester
Canvas
Polyethylene
Cuben Fiber
Nylon
1. Polyester
Polyester is a man-made synthetic fibre. This material is very lightweight, durable, and waterproof. That's why a lot of camping tent manufacturers use polyester for the waterproofing of their tent. Technically, it is hydrophobic, which means that water cannot get through it.
But since its a fiber and sewn into yarn. The water gets through the holes between the fiber. To counter this issue, companies waterproof it with silicon coating. Nearly all the pop-up waterproof tents are made up of polyester.
Polyester is the most used fabric due to one more reason. Its price. It is very cheap to produce polyester as compared to some of the other waterproofing materials.
Pros
Fully Waterproof
Cheap
Lightweight
Quick to Dry
Durable
Cons
Requires Proper Ventilation
2. Canvas
Canvas is a plain-woven fabric that is often made out of cotton. It was previously made from hemp. This material is extremely heavy-duty, as well as waterproof. This material is used to make boat sails, tents, bags, shoes, paintings and much much more.
It is a great insulator. The usage of the canvas makes your tent weather resistant. This waterproof tent material is not fully waterproof and may absorb water if it rains heavily. Therefore, it is often coated with silicon.
Canvas tents due to their insulation are a better choice for a windy season. The usage of the canvas makes the tent heavier and hard to carry.
It is also a very expensive material. Therefore, we are seeing fewer and fewer canvas tents in the market.
Pros
Heavy Duty
Waterproof
Weather-Resistant
Wind-Proof
3. Polyethylene
Polythene is the same material that is used to make shopping bags, PVC pipes, and even bullet-proof jackets. It is the most commonly used type of plastic.
It is a waterproof material by itself and does not need any type of coating. Polythene is a very heavy duty material and it is often used to make the floors of waterproof tents.
Coleman and some other famous camping tent manufacturers use this material on the floor of their tents. This material due to its bulky and sturdy characteristics does not fit the camping needs.
Pros
Fully-Waterproof
Sturdy
Durable
Budget-Friendly
4. Cuben Fiber
This fiber is the lightest and the sturdiest fiber among all the other fibers in our list. It is also known as Dyneema Composite Fabric (DCF). This tent has some serious waterproofing capabilities. But you will not see this material used in most of the waterproof tents due to its high price.
Maybe this material gets less expensive with time and manufacturers start using it in the near future. This tent is also very lightweight and breathable. A perfect fiber required for the waterproof tents.
Pros
Lightweight
Sturdy
Durable
Waterproof
Durable
Cons
Expensive
Not Commonly Used in Tents
5. Nylon
Nylon is often used in small-sized camping tents. It is also waterproof and cheap like polyester but it is less waterproof than polyester. Therefore, fewer manufacturers opt for nylon now. Nylon is also very prone to UV rays and loses its durability when regularly exposed to sunlight.
However, nylon is a very inexpensive, lightweight, and breathable material. When you see nylon in camping tents as a material, it is often coated with a waterproof material like the silicon.
Pros
Waterproof
Lightweight
Affordable
Breathable
Cons
Not that Durable
No UV Rays Protection
Final Words
Choosing the right waterproof tent is not an easy task. You should pay deep attention to the materials used and the overall performance of the tent.
If you are still confused about choosing the best waterproof tent material for your camping tent, we will recommend you to look for polyester. It's a great combo of weight, waterproofing, and price.
Moreover, pay deep attention to the details. You cannot make a cheap quality tent fully waterproof by using a waterproof tent spray.
If you already have a waterproof tent and looking to waterproof your tent. We have created a separate guide for waterproofing your camping tent.
What material are you choosing for your next camping tent? Tell us in the comments section below.