Whether you have an aged-camping tent with weak seam-seals or want to enhance the waterproofing of your tent-floor, there is an infinite number of things that you can do with your tarps.
These versatile sheets are super-cheap and very easy to be carried around. Therefore, they are immensely popular among experienced campers.
In this blog post, we will explain the uses of camping tarps, and why you should be carrying them with you on your next camping adventure.
Enough talking let's jump straight into the details.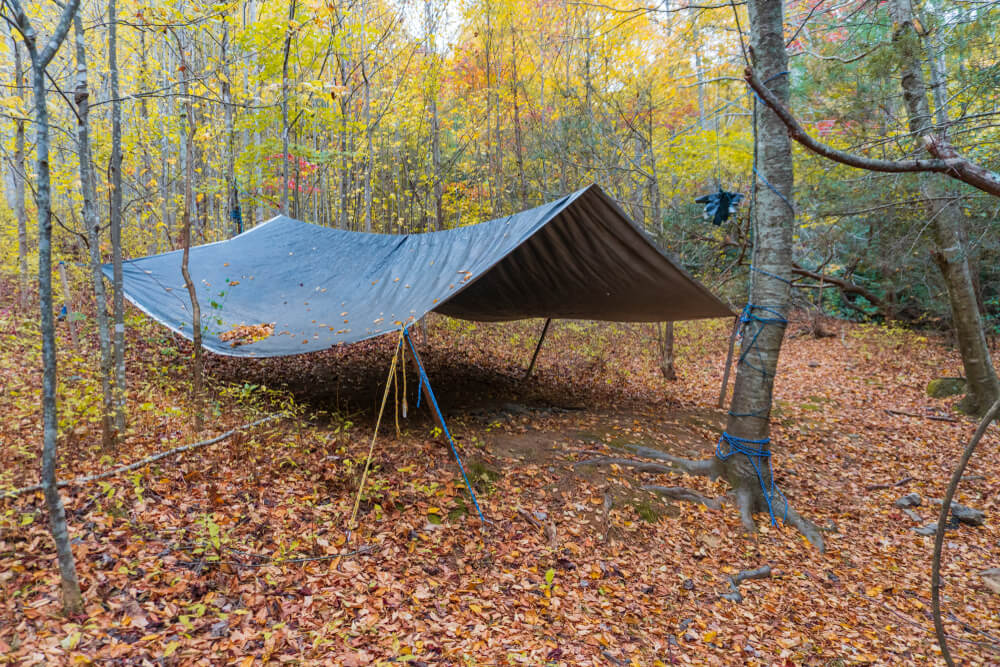 6 Uses of Tarp for Camping
Using as a Rainfly in Heavy Rain
Imagine you have an aged camping tent, or even if you have a properly waterproof tent, and it starts raining cats and dogs at night.
Surely, you hate the sound of water dripping through the camp roof, as much as we do.
We have numerous examples of people who used their tarps as a rain-fly during rain to withstand even the strongest spells of rain.
More importantly, using the tarp, as a rainfly is a no-brainer. You simply have to put in your tarp over the camping tent, and you are good to go.
The rainfly serves as a strong shield that protects your camping tent from the rain, and wind.
Using as a Ground Sheet
If you camp in a tropical area, where it rains throughout the year. There are strong chances of groundwater getting into the through seepage.
You can avoid this rainwater getting inside the tent by the usage of a camping tarp. A tarp resists the water from seeping inside the tent.
Besides, using a tarp under the tarp also ensures the bottom of the camp remains dry. So, you can easily pack-it up, and leave. Carrying a wet camping tent is a complete mess, and takes ages to dry.
Additionally, you can also use this tarp to avoid puncturing the flooring of the tent by sharp objects on the ground.
Use as a Picnic Spot Sheet
Tarps can also serve as picnic sheets, as they are super-light, can be carried around easily, and offer superior sitting posture.
In this way, you do not have to bring an additional picnic sheet. Since you already have a picnic sheet in the form of a tarp.
Using as an Extra Sleeping Bag
Carrying an extra sleeping bag always comes in handy, as you can use them in case your older one gets wet from the unexpected rain. But, do you have the extra space to carry a mattress?
Absolutely, No!
We have been in your shoes, and know how hard it can be to carry an extra sleeping bag with you. Luckily, you can also use your tarp as a spare sleeping bag.
Also, you can use tarps for some extra padding. In case, the surface is a bit harder.
Protecting Your Gear
A tarp can also serve as a gear-protection sheet for all your camping gears. Whether you are traveling in your truck or fishing in the mountains, it can start hailing out of nowhere.
If you have a camping tarp with you, you can use it for covering your equipment in the trunk of your truck. Thus, eliminating the need for an additional water-resistant sheet.
Bonus Tip: You can also use a tent waterproofing spray to enhance the weatherproofing of your camping tarp.
Blocking Wind
Strong winds can make your entire camping experience miserable. No matter how strong your camping frame is, strong winds can blow your camping tent out of the water.
You can use tarps to protect your camping tent from the winds by placing them or nearby trees or poles.
Hanging tarp from the tree blocks the wind coming towards the camping tent. So, you can sleep peacefully.
Conclusion
A tarp is a versatile camping accessory that can come in handy in a variety of ways. We have explained different scenarios in which you can use your tarp in an effective manner.
No doubt a tarp is a very useful accessory.
How has a camping tarp helped you on your camping trip? Tell us in the comments section below. We would love to hear from you.